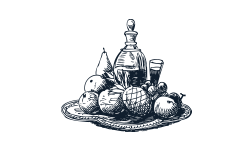 THE ANCESTRAL RESTAURANT
À LA CARTE MENU
Our à la carte menu is available every Thursday from 5 p.m. to 8 p.m. and every Friday & Saturday from 12p.m. to 2 p.m. and 5 p.m. to 8 p.m.
Click here to view our menu
THE INNKEEPER'S SUNDAY BRUNCH
The new Sunday Brunch formula
available every Sunday from 11 A.M. to 2 P.M.
Click here to view the Brunch menu
* Room service and take-out unavailable
*SCHEDULE SUBJECT TO CHANGE WITHOUT NOTICE
* * *
Following more than 85 years of existence, the Domain continues to devote itself to the promotion of patrimonial traditions and the Richelieu Valley featuring local products in its menu offerings. In the intimacy of the ancestral restaurant, it is our pleasure to introduce our local producers to our valued customers.
Bon appetit!
This initiative earned us the designation ''Predominantly Québecois Menu'': a recognition program for restaurants promoting Québec`s grown as well as transformed food products in Québec, in their menu creation.