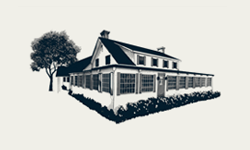 Over 80 years and counting
The Handfield Inn began it's activities in 1940 when Irène Jeannotte and Victor Handfield opened a small boardinghouse. Over the years, the success of this charming establishment continued to grow. In 1945, it was not surprising that the boardinghouse changed vocation and became an inn.
Owing to it's enchanting location, it's warm welcome, it's country flavour cuisine and under the management of Conrad Handfield, Victor's eldest son, the Handfield Inn acquired an enviable reputation across the province and the country as a whole. Today, the Handfield Inn is managed by Louis-Robert and Pierre, proud representatives of the third generation, who pursues with passion their mission of innkeepers.
Louis-Robert and Pierre Handfield as well as their staff put all their know-how into the well-being of their local and international clientele. The Handfield Inn resort has successfully preserved its intimate pastoral setting and its charm of yesteryears while integrating modern equipment that conform to today's tendencies.
The main building presents a particularly unique aesthetic appearance, proper to the square log buildings of yesteryears. Today, the Handfield Inn is a holiday and business resort unique in Quebec. It's Sugar Shack, Marina, Bar terrasse, Restaurant, and Spa "Les Thermes" make it an inescapable and irresistible destination.